Our thinking
Elections in Africa 2023
3 January 2023
---
2023 is a busy year for elections in Africa. In the following article we assess five of the key elections to watch across the continent this year: Nigeria, DRC, Sierra Leone, Liberia, and Zimbabwe.
Looking back to 2022, we saw a continuation in the trend of opposition parties challenging election results, with constitutional courts remaining important to the transfer of power. Kenya and Angola were the highest profile elections, both producing contested results followed by general acceptance and a return to stability.
More broadly, recent elections have shown that opposition parties are increasingly competitive, reflecting the discontent of voters (and particularly younger voters) towards 'establishment' parties. The electorate is also increasingly young, urban, educated and well-networked. This has put scrutiny of corruption and economic management back on the agenda and has chipped away at the traditional hegemony of identity politics.
Looking forward to 2023, Nigeria's election will bring a transfer in power after two terms of Muhammadu Buhari, while the DRC's December election remains the other key contest to watch – in particular as to whether Félix Tshisekedi will retain the presidency and how former president Joseph Kabila approaches the contest. In West Africa, leaders in Sierra Leone and Liberia have not enjoyed overly successful first terms, with both elections projecting close political battles. In Zimbabwe, on the other hand, little has happened since the 2018 election to make this summer's contest any more competitive.
Elsewhere on the continent, Madagascar's President Andry Rajoelina is positioning to maintain his political dominance in a context of poor economic performance and civil discontent. For Sudan, the slated election is the culmination of the transition agreement between the civilians and the military. This has been a process interrupted by delays, with more anticipated. Similarly, Mali and Chad have tentative commitments to an election in 2023 against backdrops of political instability and insecurity.
---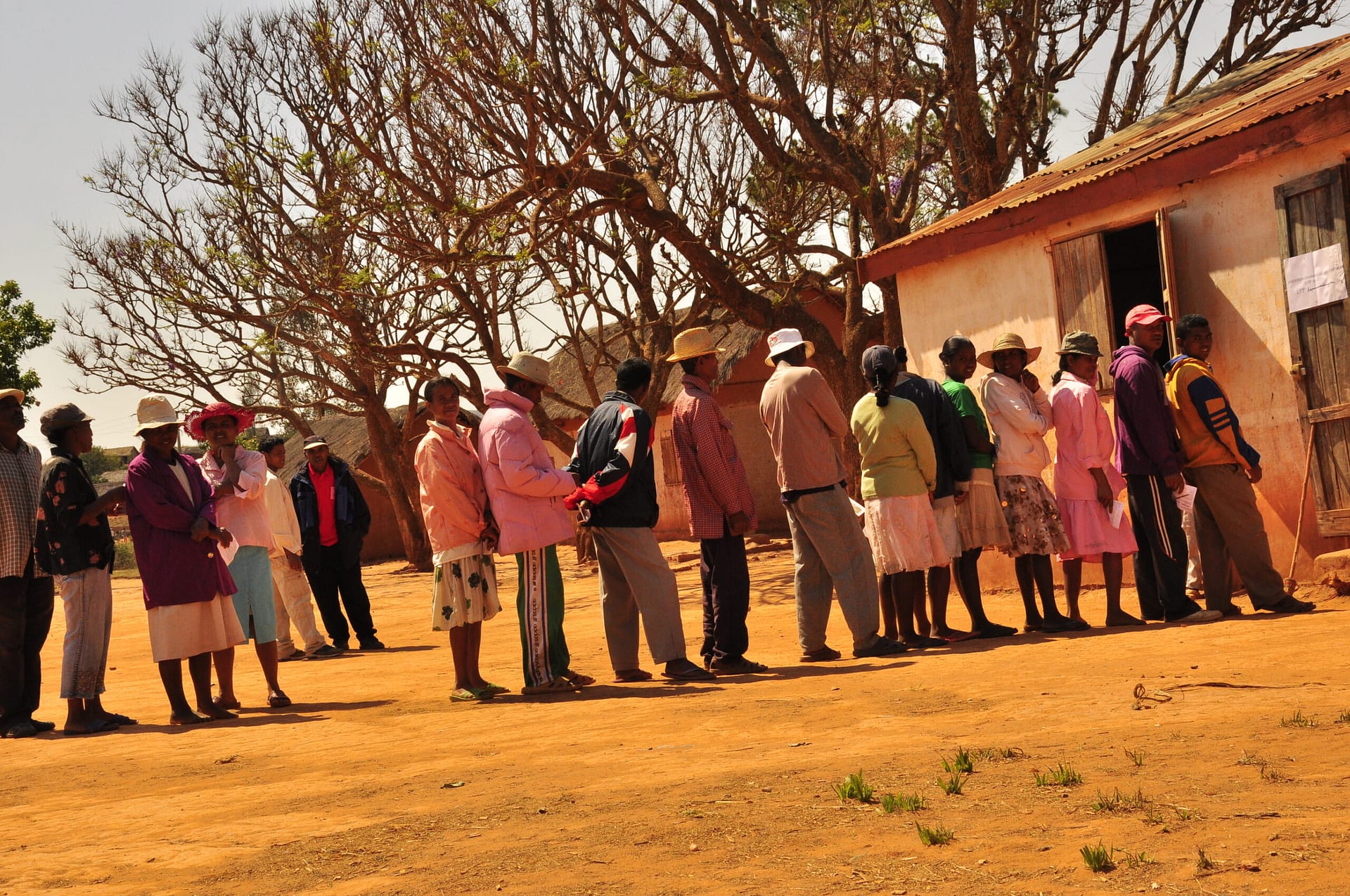 ---
Nigeria
---
Potential to break the mould
25 February 2023
Given Nigeria's market size and regional influence, February's general election is the one to watch. Both major party tickets are bucking the unwritten contract of power rotation between the predominantly Muslim north and the predominantly Christian south. In addition, the emergence of the most impactful third party candidate since the founding of Nigeria's Fourth Republic in 1999 is shaping up February's election to be one of the most contested and impactful contests in decades.
With President Muhammadu Buhari blocked from a third term by term limits, the ruling All Progressives Congress (APC) has selected Bola Tinubu as its presidential candidate. Tinubu is well known, politically savvy and a classic establishment candidate known for his ability to harness the party structure. However, his selection as the APC's candidate likely had more to do with his skills in party management than his ability to mobilise broad, cross-cutting popular support. Adding to the controversy, Tinubu broke the unwritten convention, selecting a fellow Muslim as his running mate. The APC's Muslim-Muslim ticket could undermine the APC's broader appeal, especially in key southern electoral battlegrounds.
Nigeria's other main party – the People's Democratic Party (PDP) – has also put forward a veteran of Nigerian politics, former vice president and 2019's losing presidential hopeful, Atiku Abubakar. The PDP too has upset the conventions of power rotation by selecting a candidate from the north to succeed Buhari, himself a northerner. But the choice, while controversial among the PDP's southern barons, may pay off politically given the APC's own struggles in the south. While the PDP route to victory is far from clear, appetite for change after eight years of APC rule (and worsening economic and security conditions) may give Atiku his best chance yet of winning the presidency.
However, the emergence of a credible third party candidate – Peter Obi of the Labour Party (LP) – means that this will not be a straightforward two-horse race. Initially viewed as a spoiler but now seen as a genuine contender, Obi has breathed new life into the party and Nigeria's electoral landscape. Propelled to significance by a wave of support on social media, Obi is a third-way candidate and represents a rejection of business-as-usual politics, gaining support from urban-based youths and Nigerians disillusioned with their country's two-party system. Sofala Partners, in partnership with Emani, conducted a poll in September showing that Obi's chances go beyond his social media hype (read here).
Obi's candidacy will likely live or die on the strength of the youth vote, which is seen as both the base of his support and a traditionally weak voting bloc come election day. While an outright victory remains a longshot, it does present the potential for the first runoff since Nigeria's return to multiparty politics in 1999. Obi winning a meaningful chunk of the vote would also serve as a warning to establishment candidates that relying on party clout and infrastructure may not be sufficient going forward, as well as opening the door for other non-establishment candidates.
Regardless of the outcome of the election, we expect the incoming president will take a less protectionist and authoritarian stance than Buhari. While there will naturally be nuance between the policies of the potential winners, they are likely to be more alike than different when compared to Buhari's track record. In this way, we see the potential geopolitical implications of the election as the most relevant and impactful.
Regardless of the winner, the political system will be rattled given that all the current tickets will upend the status quo in one way or another. While we do not expect that this will cause a breach in Nigeria's record of peaceful transfers of power over the last 23 years, it does have the potential to exacerbate tensions among some religious and ethnic groups, particularly if the winner is unable to meaningfully address the economic and security challenges that are impacting much of the country.
---
---
DRC
---
All to play for
20 December 2023
We have to wait until December 2023 for the DRC's election, but we expect incumbent President Félix Tshisekedi to seek a second term. Other big hitters are only likely to put their name forward as we approach the November candidate deadline, but one of them – the popular former Katanga governor Moïse Katumbi – has already declared his intention to run in a move that will concern Tshisekedi and other opposition hopefuls. A key question remains as to whether former president Joseph Kabila will run himself and if not, who he will throw his support behind. In such a potentially competitive field, sources report, Tshisekedi's inner circle may be exploring options to delay the election into 2024.
Although incumbency offers numerous advantages, Tshisekedi's route to re-election in 2023 is not straightforward (hence the rumoured plan to avoid going to the polls this year). The president's political position certainly looks stronger than it was in 2019, having ousted pro-Kabila parties from the ruling coalition in early 2021. However, Katumbi's December exit from Tshisekedi's Sacred Union alliance raises questions about the solidity of the new bloc supporting the president, whose own party – the Union for Democracy and Social Progress (UDPS) – has also been suffering from internal factional woes. The performance of Tshisekedi's government has likewise been questionable. The first half of his term was compromised – perhaps understandably – by the tussle for influence with Kabila. However, since reforming the parliamentary majority and installing a new government, little progress has yet been made in addressing the government's stated policy priorities – in particular towards achieving a resolution to rising insecurity in the east of the country. The resumption of the M23 insurgency has caused huge population displacements, further economic dislocation and a worrying escalation of tensions with Rwanda.
The popular Katumbi, who developed a reputation for strong technical administration while governor of Katanga province (2007-15), will hope to exploit these perceived weaknesses. Perhaps more than any other Congolese political figure, he enjoys genuine cross-regional and diaspora support – especially among young Congolese. However, a compelling run against Tshisekedi could depend on his ability to secure the endorsement of other regional kingmakers, including some – like Jean-Pierre Bemba who remain outwardly loyal to Tshisekedi and the Sacred Union – and others who remain affiliated to Kabila.
Despite a bruising couple of years, then, Kabila's actions and decisions in the run-up to the election could well have a significant impact on how the process plays out. A bid to return to office himself is a possibility. However, the attractiveness of this will have to be weighed against the risk that it will attract renewed efforts by the Tshisekedi government and international prosecutors to investigate and prosecute his and his family's business dealings. His political platform is also uncertain – his People's Party for Reconstruction and Development (PPRD) is a shadow of its former self, having lost a number of its key figures to the Sacred Union. But Kabila's war chest, networks and political savvy represent a considerable resource – perhaps even for Katumbi should the former president look to line up with the former governor.
More than anything, the international community want peace and stability. Since none of the likely candidates look entirely reliable, the DRC's key partners will be primarily focused on ensuring as fair an electoral process as possible and avoiding any escalation of regional tensions. The 2018 election (which was fraught with delays) displayed significant irregularities and was followed by instances of human rights abuses. Renewed efforts for a lasting security and political solution to the systemic conflict in eastern DRC will be another focus in the international community's engagement with this election compared to 2018. Developments over the coming year will provide a better understanding on the risk of post-election violence.
---
Sierra Leone
---
Another close call?
24 June 2023
Sierra Leone's election in June 2023 will likely be a tense one. The Sierra Leone People's Party (SLPP) and All People's Congress (APC) dominate the political landscape and elections have become increasingly competitive. The 2018 presidential election was close and marked by violence, with clashes between supporters of the SLPP and the APC likely to remain a recurring theme, especially in Freetown. There have been public protests this year due to the cost of living crisis and the Sierra Leonean parliament itself descended into  brawls over electoral reform in November 2022. Political leaders are also likely to politicise ethno-linguistic divisions. President Julius Maada Bio and likely opposition leader Samura Kamara have both previously been accused of encouraging an identity politics-focused voting culture.
The SLPP and APC are both grappling with internal party issues, which will increase the uncertainty around each party's electoral performance. Some SLPP party members have cast doubts over Bio's presidency due to the First Lady's interference in party matters. Notably, the First Lady purportedly influenced Bio's decision not to select his current vice-president (Mohamed Juldeh Jalloh) as his running mate. Senior SLPP party officials reportedly deem this to be a mistake given Jalloh's broad cross-ethnic appeal. With only six months to the polls, however, the APC has yet to nominate a candidate following former president Ernest Bai Koroma's announcement that he will not contest the 2023 election. Former finance and foreign affairs minister Samura Kamara is the APC's expected candidate, but his ongoing legal battles – which have been encouraged by Bio – may prevent him from running.
At this stage it seems that June's election will be a close one between the SLPP and APC. Key to Bio will be his ability to maintain party unity, while there are also early indications of divisive and tribal rhetoric which will worry external stakeholders.
---
Liberia
---
Opposition divisions mask Weah criticisms
10 October 2023
Liberia's President George Weah has endured a turbulent first term. Weah was brought to power on a wave of populist expectations after the technocratic and somewhat dry tenure of President Ellen Johnson Sirleaf (2006-18). However, that optimism has gone while governance and the rule of law have regressed. Weah has reportedly invested in spin doctors to improve his image: corruption has grown; key political allies to Weah have been sanctioned by the US; and, most recently, Weah has faced significant criticism for the amount of time he is spending outside of Liberia.
Luckily for Weah, he faces a fragmented opposition. Formed as an opposition coalition against the president in 2020, the Coalition of Political Parties (CPP) has been undermined by divisions and disagreement over its 2023 flagbearer. This resulted in Liberia's main opposition party, the Unity Peoples Party (UP) of Joseph Boakai, exiting the coalition in February 2022. The Alternative National Congress' (ANC) Alexander Cummings is now the CCP's standard bearer. Any rapprochement between the leaders remains unlikely in the current political climate (Boakai sought to testify against Cummings in a corruption case). Without a united opposition, Boakai is likely to lack the support to mount a real challenge on Weah.
Recent activity has heightened concerns over political violence. The CDC reportedly deployed unarmed party militants to enforce its support ahead of June 2022's by-election in Lofa County, which has supported Boakai in the past. Coupled with rumours of the existence of a secret militia to protect the president's position, such actions have given rise to concerns among Liberian civil society organisations about the potential for violence in the October 2023 election.
---
Zimbabwe
---
ZANU-PF to hold on once more
July/August 2023
There have been no signs that Zimbabwe's election will be any more free or fair than previous contests. The Zimbabwe Electoral Commission (SEC) lacks independence and the security forces remain a key kingmaker to the hegemony of the Zimbabwe African National Union – Patriotic Front (ZANU-PF) and President Emmerson Mnangagwa. While the hegemony of liberation parties in other parts of the continent is arguably being tested – including the African National Congress (ANC) in neighbouring South Africa –ZANU-PF's stranglehold remains through its access to state resources, co-optation of the judiciary and security agencies to suppress opposition activity, and collusion with traditional leaders to secure the rural vote.
Opposition leader Nelson Chamisa's new party, Citizens Coalition for Change (CCC), is likely to be a bigger nuisance to ZANU-PF than Chamisa's former party the Movement for Democratic Change (MDC) Alliance Party – a coalition of three parties that jointly ran against ZANU-PF in the 2018 election. Chamisa left the party in January 2022 to establish the CCC following disagreements with MDC-Tsvangirai leader Douglas Mwonzora. Since its launch in January, the CCC under the leadership of Chamisa and party official spokesperson advocate Fadzayi Mahere has supplanted the historical position of the MDC as Zimbabwe's leading opposition party. This was seen in the 2022 by-elections, during which the CCC made a statement by winning 19 out of 28 seats (including Mnangagwa's former parliamentary seat in Kweke Central). However, despite these gains and Chamisa's undoubted charisma and organisational capabilities, ZANU-PF's ongoing control of the electoral system and security apparatus will make for an uneven contest. Competing in an uneven contest, the CCC's primary goal will be to sustain the momentum built during the by-elections and seek to capitalise on the international pressure and condemnation that is likely to accompany the inevitable allegations of state-sanctioned electoral fraud.
---
Sofala Partners'  policy and political monitoring work is predicated on the quality of our in-country source networks. We conduct both regular and ad hoc monitoring of political or sector-specific issues across the whole of Africa. Sofala Partners is well-placed to utilise this knowledge to provide forward-thinking analysis around elections and the their implications for our clients. Such an understanding of the political dynamics is at the core of all the services we provide.
For further insights and analysis, or to better understand how Sofala Partners can support your business, please email info@sofalapartners.com
To stay up to date with our Perspectives follow us on LinkedIn or Twitter at @SofalaPartners